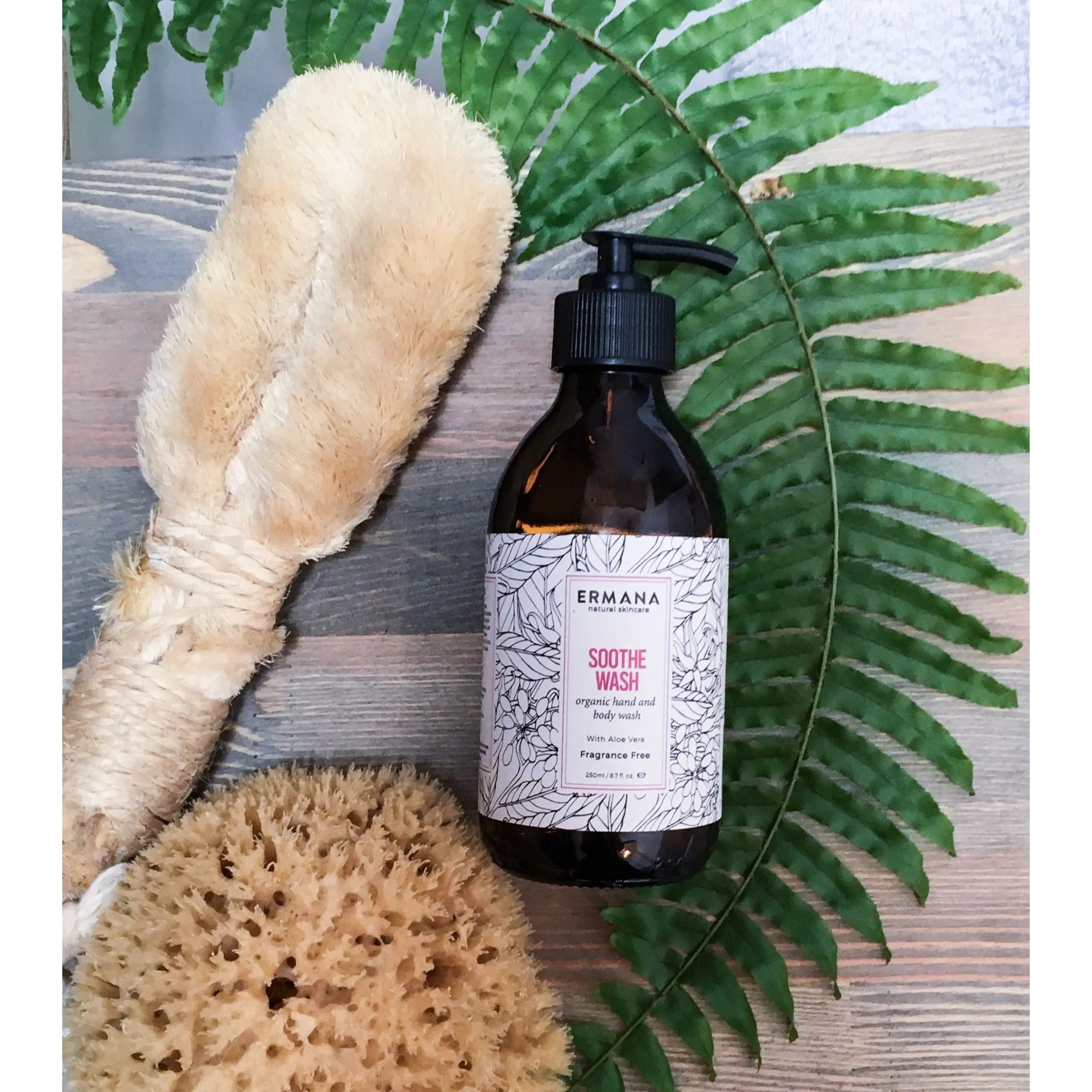 Most of us are very good at looking after our skin however we often focus on our face and forget about the rest of our body. Our skin is the largest organ in the body so we need to look after it by nourishing and hydrating to keep it supple and prevent it from becoming dry.
We are delighted to announce the launch of a range of organic hand and body washes and lotions. Available in 250ml sizes, the oils are presented in amber glass bottles with pump dispensers for ultimate ease.
Ermana hand and body washes are made from plant based ingredients including aloe vera juice to help nourish and protect skin while it cleans. Aloe vera is suited to all skin types, especially dry, damaged, broken, sensitive and irritated skin.
It has anti-inflammatory and antioxidant properties and soothes skin conditions such as psoriasis, dermatitis, dandruff and skin burns. You can always try growing your own Aloe Vera plant so you always have some on hand to soothe any skin issues .
Our washes are perfect for those with sensitive skin and can be used as hand wash or body wash in shower or even as a shampoo.
Our hand and body lotions are made from olive, flax and sunflower oils as well as shea and cocoa butters to nourish and hydrate the skin.
Shea Butter is a soft creamy butter extracted from the nut of the shea tree. It is a superb moisturiser with exceptional healing properties for the skin. It's also a rich source of vitamins A and E.
Cocoa Butter is extracted from the cocoa bean and a rich source of vitamin E. It's wonderfully hydrating, skin softening, protective as well as an excellent antioxidant and anti wrinkle treatment.
Refresh is infused with grapefruit essential oil and revitalises body and mind.
Comfort is infused with lavender, geranium and ylang ylang essential oils and works to balance body and mind.
Fresh is infused with peppermint and patchouli and awakens body and mind.
Revive is infused with lavender and frankincense to restore body and mind.
Soothe is fragrance free, perfect for those with sensitive skin or allergy to essential oils.
All the washes and lotions are organic, cruelty free and suitable for vegans.
Here are some of our body care tips
A shower is better for your skin than a bath, which tends to dehydrate the skin. Make sure that the water is lukewarm, rather than hot. For bath lovers, it is ok to take a bath from time to time. However, don't stay in the water for too long!
If the skin on your body tends to become dry, especially after taking a shower. It is important to use gentle, soap-free skincare products for your cleansing routine. If you use products that are too harsh, your skin can become extremely dry and feel very uncomfortable.
Before you get out of the shower, rinse your entire body off well to eliminate all traces of your cleansing product. Then, dry your skin by gently patting your legs, chest, arms, etc. with your towel.
Make moisturising a daily habit! After gently patting your skin dry with your towel, use a suitable cream to effectively moisturize your skin. This will help restore the hydrolipidic film that covers your epidermis.
Don't forget that ALL SKIN TYPES require moisturisation.
For beautiful skin, your body requires sufficient amounts of liquid. Make sure that you drink enough water, i.e. approximately 8 glasses per day. A glass of water when you wake up, tea for breakfast, mineral water throughout the day, herbal tea at night….
Remember -it is as important to think about what we put on our body as it is to think about what we put in our body.